Faction Name
: Sycorath Dynasty
Race
: Elves
-- Long Lived: All Elven heroes start with an additional rank.
-- Slow Lives: Elves gain population at 10 food instead of 8.
Leader(s)
(need not be the same as Hero):
Sycorath Obsuris - Obscuris is the latest in the long line of emperors of the Sycorath Dynasty.  In truth, his family name was not originally Sycorath, but as convention dictates, when he ascended to the High Throne he adopted the name as his own.  Obscuris rose to power early in his life, becoming a trusted advisor of the previous Sycorath, before murdering him and blaming the death on the heir to the High Throne.  Obscuris is known to be cold, calculating, and ruthless - all the best qualities of a Syc.  As emperor, Obscuris has complete control over every aspect of his empire, but it is not the domestic issues that intrigue him.  He has instead set his sights on claiming new territory, and conquering new lands and peoples.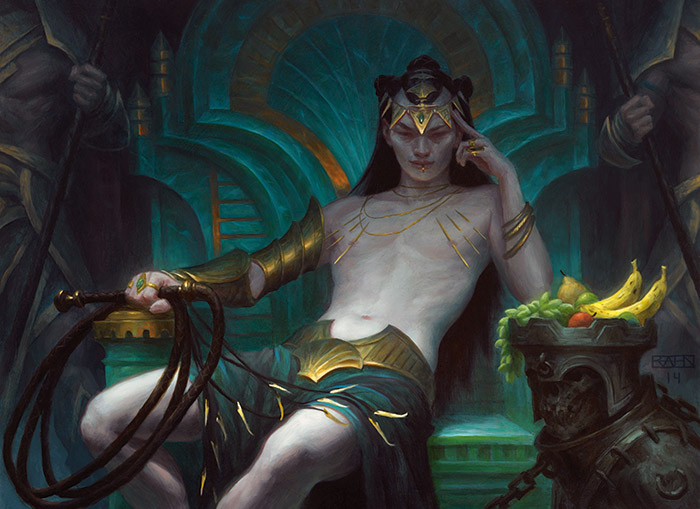 Capital
Qualessetia, the Black Diamond of the Lavoris
Description
:  
Qualessetia's high structures are visible from anywhere in the Lavoris Swamplands.  From the highest temple-structure, Sycorath Obscuris sits atop the High Throne, with servants and advisors catering to his every whim.  In other villages sparsely populated throughout the Lavoris, the rotted wood used to build houses and other buildings are continually replaced, but Qualessetia's sprawling cityscape is composed of a rare black marble, hence its unofficial name, the Black Diamond of the Lavoris.  Much of the wealth of the Syc is concentrated here, and the capital is the center of Syc culture and commerce.  Other resources gathered from other villages are first sent to the capital, taxed, and then sent to their destinations.
Other Cities
(if owned):
Hero
(Name, description and stats):
Malanis Jeraxa
Jeraxa is Obscuris' most trusted agent, if Obscuris is able to trust anyone.  She quickly showed her propensity as a spy while Obscuris was still advising the previous Sycorath.  It was thanks to Jeraxa that Obscuris became aware of the affair the heir to the High Throne was having with a lowly servant, allowing Obscuris to blackmail him into silence before Obscuris began his takeover.  Now that Obscuris sits on the High Throne, and his ambitions look outward, he has sent Jeraxa out of his territory to spy on their neighbors.  Jeraxa is known to bribe, threaten, and at times take on the appearance of high members of government, using what can only be assumed to be the strange magics of her god to appear as other humanoid creatures.
Warrior:General:Governor: Piety:
1
Subterfuge:
2
Traits:Cemeret Idrixi
(extra Hero)
Although barely in adulthood, Idrixi is known by those in Sycorath's inner circle as the most talented assassin in the empire.  His aptitude for killing and trickery make some believe that he will overthrow the current Sycorath, a belief that Obscuris is very mindful of.  As such, he sends Idrixi on the most dangerous and risky of missions, but time after time, Idrixi returns to the High Throne with a head in his pack and a cold smirk on his face.
Warrior:
1
General:Governor: Piety:Subterfuge:
1
Traits:DeityDeity Name
: The Hooded
Source
: Trickery
Powers
: Mindgrip
                     Empower Champion
                     Unlock Potential
                     Second Source (Contemplation)
Description
:
It is almost ironic that a society that prides itself on its individualism would revere a god that appears as several hooded figures with no faces.  However, the Hooded do take great interest in the actions of what the Syc believe are the most valued of traits - ruthless ambition, dedication to their cause, and both social and martial prowess.  As such, the current Sycorath is often seen to be the champion of the Hooded, one who will join their near-endless ranks once he dies.  In addition, those who are seen as paragons of what the Hooded teach can also be championed by them.  The Hooded are commonly depicted as a council of hooded figures standing around a circular table.
Culture
:
The Syc are a highly individualized society.  They form groups or even families only out of necessity, and prefer to be left alone to work on whatever project they have in their head.  The poorer Syc who live outside of the Black Diamond of the Lavoris usually rely on hunting and gathering as both a source of income and food, as farming is not an option in these harsh conditions.  The Lavoris Swamplands are inhabited by deadly creatures of all sorts, ones that would kill a Syc left in the swamplands alone, so the rural Syc are more inclined to associate themselves with a group than those in the city.  When traveling from different villages, most Syc use a gondola system to make their way through the fetid marshes of their homeland, as traveling on foot between cities means almost certain death at the hands of the wildlife.
In Syc cities, tutors are one of the most common professions, as wealthier Syc wish for their children to have all the tools necessary to become a champion of the Hooded.  As part of Syc tradition, as a young child grows into adulthood, they will leave their home and become a servant to another house for several years.  The purpose of this is to impart to the young Syc a sense of the worst that could happen to them if they don't work to make themselves successful.  Only rarely will Syc venture out of the Lavoris Swamplands and visit other kingdoms, and most poor Syc never leave the village in which they were born.
History
:
The Syc were originally part of a larger faction of Elves who fled the Sundering.  After traveling for many months without finding a suitable place to settle, many of the Elves became desperate, and started stealing precious food and other resources from their fellow Elves.  The makeshift leaders of the ragged Elves were furious, and cast out an entire group of the Elves to fend for themselves.  This group wandered aimlessly for many more months, eventually finding themselves in dense swamplands.  It was here that the wildlife began hunting the Elves, and their numbers dwindled.  However, one Elf, calling himself Sycorath, was able to lead the remaining Elves in the construction of shelter, to protect themselves from the dangers of the swamp.  
It was this stability that allowed the group of Elves to form their own society in the Swamp, with Sycorath declared as their leader.  Soon after they learned of a new god, the Hooded, that promised them the greatest power if they would only be willing to go out and claim it for themselves.  At this point, their hatred for their kin and their dedication to their new god caused these Elves to declare themselves independent of their kin, and called themselves the Syc.
For many decades after their settlement, the Syc focused on learning the nature of the swamp in which they inhabited.  They gained valuable survival techniques and were able to live in relative peace, but under constant threat of the deadly creatures that lurked beyond their villages.  Meanwhile, in the capital, political unrest ran rampant, with weak Sycoraths being murdered and new rulers taking their place.  Out of respect to their origins, however, the usurper would always adopt the name Sycorath as a show of unity for their people.  Throughout the years, the fledgeling empire has ahd to deal with many threats, from widespread disease to foreign invasion, but as time progressed, the Syc holding of their lands became more stabilized, such that at the present date the current Sycorath, Obscuris, can finally focus his attention to the outside world.
Starting Resources
:
Additional Hero (-7)
Improve Hero Rank (-5)
Additional Village (-5)
Here There Be Monsters (Unintelligent) (+2)
Starting Location
:
Unit Templates:Narithi Skirmishers
Taken from the local population, Narithi Skirmishers are adept at traversing the deadly swamplands, and harrow enemy troops with ranged weapons while the enemy units are bogged down from their advance.
Armor: Unarmored
Weapon: Bow
Movement: Infantry
Training: Militia
Miscellaneous: Scouts
Total Cost: 5 gold (no upkeep)
The Rathi High Guard
These troops are the personal guard of the Sycorath, trained for years and stationed at the capital.  They are the elite troops of the Syc, and are looked up to as paragons of a Syc warrior.
Armor: Heavy Armor
Weapon: Spear and Shield
Movement: Infantry
Training: Elite
Total Cost: 9 gold, 2 iron (2 gold upkeep)
Joruna Man o' War
These vessels are primarily used as defenses for sea ports and trade routes, as well as the vessel of choice for tax collectors and pirate hunters.
Hull: Great Galley
Crew: Mounted Crossbows
         Marines
         Archers
Total Cost: 6 gold, 3 wood (2 gold upkeep)[/i][/i][/i][/i][/i]



Posts

: 45


Join date

: 2015-05-20



Looks good. I just need to know where you're starting and I can accept your application. The only swamp taken is the large one in the northeast, where Tikal's Lizardfolk are.
Admin




Posts

: 107


Join date

: 2015-04-01



Accepted.

Resources:
Capital: Luxury (Exotic Dyes)
Village 1: Fishing Waters
Village 2: Stone
Village 3: Luxury (Exotic Leather)
Village 4: Fishing Waters

Hero Traits:
Malanis Jeraxa - Old World Scholar: Knowledgeable about the old world of Allis and the gods and peoples who populated it.
Cemeret Idrixi - Martial Education: +[I] Warrior rank
Admin




Posts

: 107


Join date

: 2015-04-01



---
Permissions in this forum:
You
cannot
reply to topics in this forum